See also: Website Improvement Service | Musician Boost Service
Use Facebook to help promote your business, by creating a dedicated business page that can be publicised without sacrificing the privacy of your personal Facebook page. I'll also explain how to best use it.
1. Log-in to Facebook
Log-in to your Facebook acount. If you need to create one, see "Create an Account"
2. Create a Facebook Business Page
If you already have a Facebook business page you can skip to the next section, otherwise here is how to create one:
At the bottom of the left-hand menu, either click the Create Page link, or you can go to the "Create a page" page.
Select the most appropriate business type from the size panels. For example, if you are a band, select the panel "Artist, Band or Public Figure"
Click "Chose a category" and select the most appropriate category, eg. Band or Musician
Enter your Business or Group's name, eg. The New Beatles. Double check your spelling, and click the "Get Started" button
Complete the suggested Set up, though you can skip it, and add the information later
You can add your new page to your Shortcuts (in the left menu) so you can access it more easily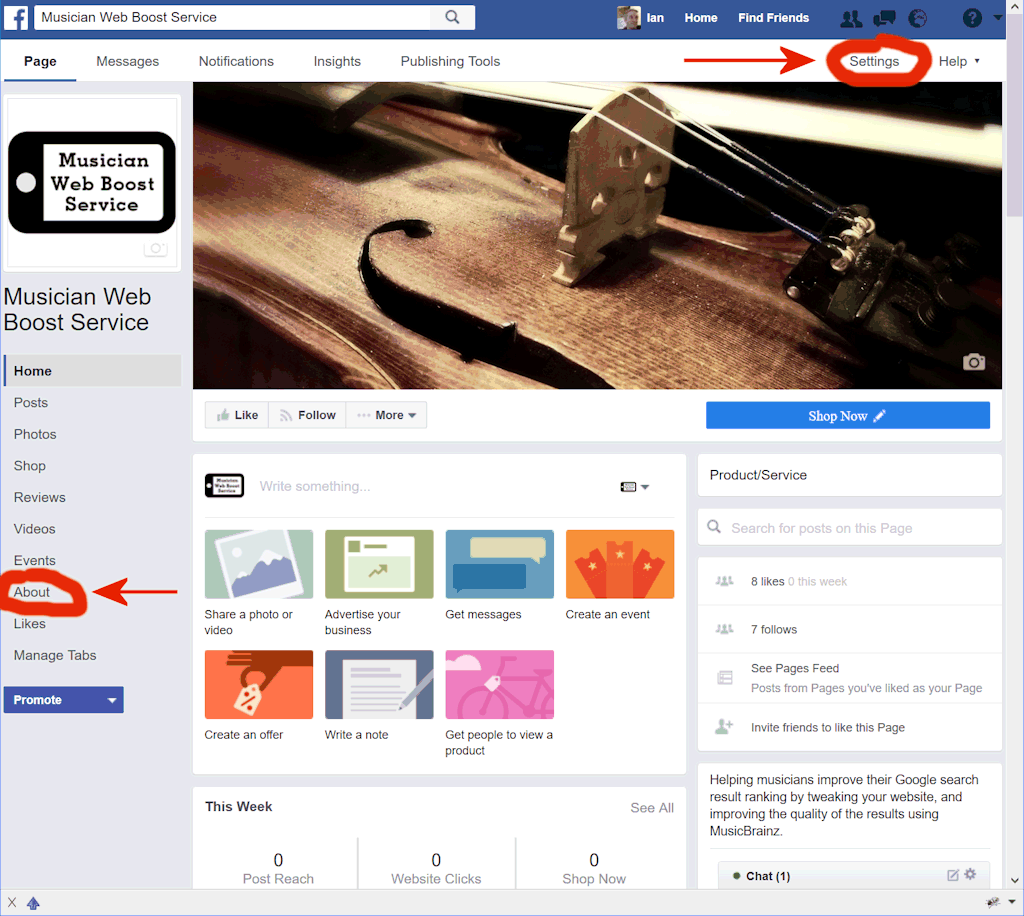 3. Configure your Facebook Business Page
You need to make sure your new business page is configured with relevent information, as this will help Facebook promote your page to relevent people, and vice versa. Of significance are:
About (left menu) | Edit page info (this differs depending on the type of business)

All information is relevent). If you are a band, make sure you add the following which will help target like-minded individuals:

Your genre
Other band members
Your hometown
Influences

Settings (top right) In particular under the General tab:

Enable Reviews (people are impressed by them)
Enable Visitor posts (they facilitate interaction)
3. Using your Facebook Business Page
These tips will help you make the most of your Business page:
Create Facebook "Events" to publicise gigs etc.

Events automatically re-appear nearer the time
People can mark events as "Interested" and automatically get reminders
Specifying the event location will help Facebook promote your post to people near that location as a "Related event"

Writing posts lets you network (advertise for free!):

You can add a post to:

Your page, which automatically notifies everyone who likes your page.
Someone else's page which you "like", which automatically notifies everyone who also "likes" the page

"Tagging" others notifies them, and if they like your post, all of their followers will be notified too. For example, if you are going to Peckford Castle, tag their Facebook page by typing an "@" and their name, and select them from the choices offered. Currently their page has 40,000+ likes, so a lot of people might now see your post. See also "Tagging" on Facebook.
"#Hashtags" (which begin with the # symbol) are keyword categories added to your post, to make it easier for people to find you. For example, adding #weddingmusic to your post will let people find you if they either (a) search for "weddingmusic" (b) click on the #weddingmusic hashtag in someone else's post. See also "How do I use hastags" on Facebook.
Add an image to your post, your eye is automatically drawn to pictures.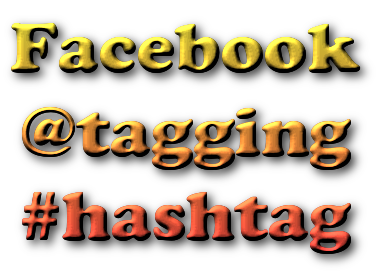 You are reading this because your eye is drawn to images!
4. What do you write about?
Depending on where you are posting, Facebook lets you post as yourself, or as your business page, which you can select in the top-right corner of your post.
Write about what you will be doing or selling or making. This is especially important for upcoming events, as it give people a chance to plan. You should link to the Facebook Event, add an image, tags and hashtags.
Write posts when you are doing something. You can write about the Ws: Who, What, Why, When and Where. Don't forget an image, tags and hashtags.
Write posts about what you did. Thank people. Don't forget an image, tags and hashtags.
How much should you write? No more than a couple of sentences, people have short attention spans.
Why Facebook?
Facebook is the largest social media site, with over a billion daily activate users, which is more than Twitter, Instagram, Pinterest, and SoundCloud. Only YouTube is comparable with over a billion users. It makes sense to target Facebook, and perhaps supplement it with YouTube videos and SoundCloud audio, when appropriate.