Testimonials : Russell Gillespie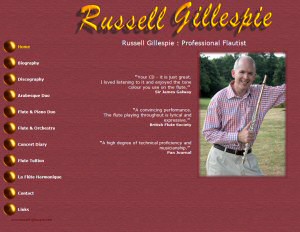 'I have been a client of Knowledge Computing for approximately ten years. During this time they have designed and produced two highly effective websites for me which continue to run concurrently, supporting every aspect of my business.
The ultimate advantage of these websites, has got to be that prospective clients already have a full working knowledge of my work prior to contacting me. This saves so much time and allows me to take projects a lot further on at a much earlier stage, rather than having to answer 'the same old questions' and the clients not necessarily grasping the answers over the phone first time.
'IT' is certainly not my forte and having the right people for the job was my priority, as I had no intention of having a DIY job done on my 'Shop Windows'.
Having said this, Knowledge Computing made it very clear from the start that I could be as involved as much or as little as I wished. I of course had to provide the necessary text and photographs but this was gradually done over a period of time, giving me time to think about how the website was beginning to materialize and how I could take it further with Knowledge Computing doing all the IT mumbo jumbo! I could access it 'off air' so to speak, make notes of what I wanted to have altered before it went live. Once it went live, anything else that needed doing or updating – a simple email or phone call to Knowledge Computing got the job done!
I consider myself very fortunate to have Knowledge Computing taking care of my Shop Windows. There is just no problem and with ten years and continuing invaluable support from this company, I can assure you that the grass could not be greener!'