Increase customer numbers and sales

This 360 photo tour appears on Google Maps, and could make your business look amazing too.
Drag the image to look around, tap the arrows to move, zoom in for detail.
Introduction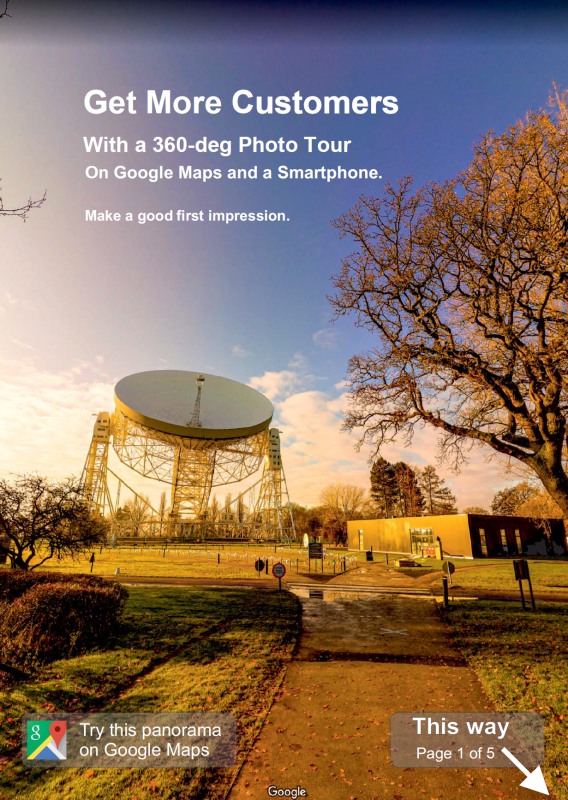 Increase customer numbers and sales with an affordable 360-degree virtual tour that looks amazing and engage customers. As the next best thing to being there, a tour showcases your business 24/7, providing an experience via a smartphone or PC that is better than photos and videos, and will boost your ranking on Google.
Increase customer numbers
✓
Increase customer sales
✓
High-resolution 360-deg images
(up to 132 megapixels)
✓
Public insurance liability
✓
GDPR Privacy compliant images
✓
Enhanced DRB Certificate

✓
For more details
Web sites
I also make websites that are right for you. I speak in plain English, with hand-holding if needed, to give you a web site that fits you and your budget. And I won't sell you a Rolls Royce, if a well-designed economic site is sufficient for your needs.
For more details
We can also:
We offer:

360-degree virtual tours on Google Maps
360-degree photographs for Google Maps
Google Maps listing fixes
Made to measure websites

We do this with:

A personal and friendly service
Over 25 years Website experience
Wide experience of real businesses
Value for money